Reality TV star, Angel lost her cool when media personality, Dotun criticized her because she mentioned all she did for former Shine Ya Eye housemate, Cross, on national TV.
Recall that Angel had during an episode of the reunion show on Tuesday night, mentioned some of the things she did for Cross which she claimed were never reciprocated.
According to her, that was why she ended their friendship.
Noting that she cooked for Cross three times when he was sick and gave him money when they were in Dubai after he ran out of cash, Angel expressed disappointment that she didn't get such love in return.
This led to Dotun's reaction, who subsequently submitted that if anyone comes on TV to tell the world what they've done for him, then it was never from a genuine place.
He tweeted: "If you would come on live tv to tell the world what you have done for me then it was never from a genuine place. You either did it for a stake or you did it cos you need to hold it against me #BBNaijaReunion."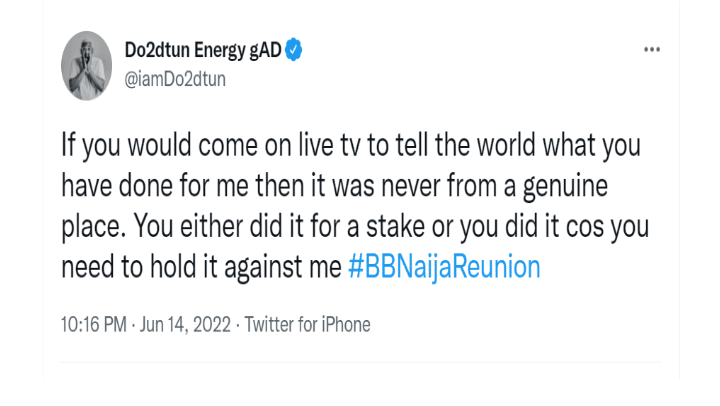 In a swift response, Angel exclaimed, "shut up."