Photos of late Nollywood actor, Saint Obi's palatial mansion in his hometown in Mbaitolu Local Government Area of Imo State have surfaced on the internet.
The photos were shared online after veteran filmmaker and journalist, Zik Zulu Okafor, narrated how Saint Obi's marriage distanced him from his friends and acting career.
Zik, a close friend of the actor who sadly passed away on Saturday, May 13, after a prolonged illness, in an article shared a detailed account of the tragic events leading up to Obi's death.
He revealed that Saint Obi married a high-ranking executive in a telecommunications company, and her siblings always viewed him as a "gold digger."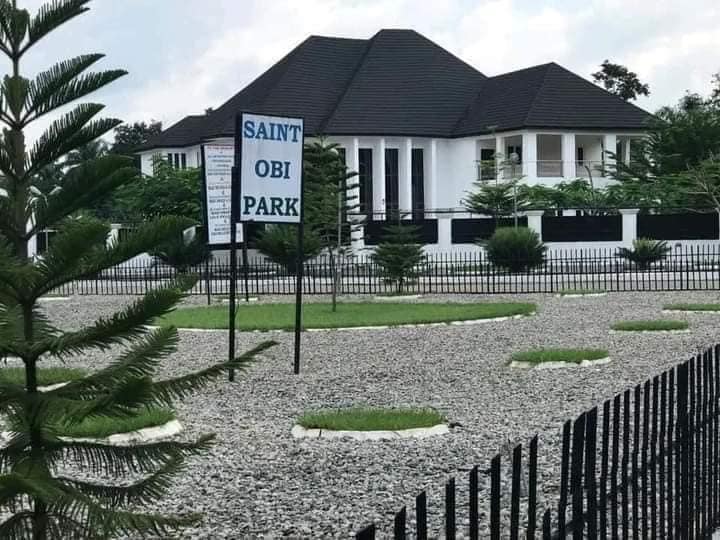 He said that Saint Obi was constantly harassed by his wife's siblings, which ultimately led to the dissolution of their marriage. ICYMI, read here
Following his death, Uche Nworah, said to be a member of the Advisory Board at Awka Millenium City, Uche Nworah, took to Facebook to release photos of the actor's mansion in Imo state.
The late actor had paid homage to his ancestors in the house built on a large expanse of land.
Uche captioned the post,
"Honouring The Ancestors
"Late actor Saint Obi (Obinna Nwafor) even in death passes on an important message of honouring one's ancestors. New pictures have emerged showing his palatial home in his native Alaenyi Ogwa village, in Mbaitolu Local Government Area of Imo State.
"A conspicuous signboard in the sprawling estate honours his Umuezealaeze ancestors listing their names; Mazi Duruoriaku & Lolo U (Great-Great-Great Grand father and mother), Mazi Iwuoha and Lolo E (Great-Great Grandfather and mother), Mazi Amadi and Lolo N (Great Grandfather and mother), Mazi Nwafor and Lolo Nwajiocha (Grandfather and Mother), and Mazi Melford and Lolo Millicent Nwafor (Father and mother)."
See below,