Nollywood actor, Charles Okocha has warmed hearts online with a recent video of himself and his mother, Ngozi Okocha.
The actor, who never passes up an opportunity to shower praise on his loved ones, particularly his children, is seen in the trending video serenading his mother.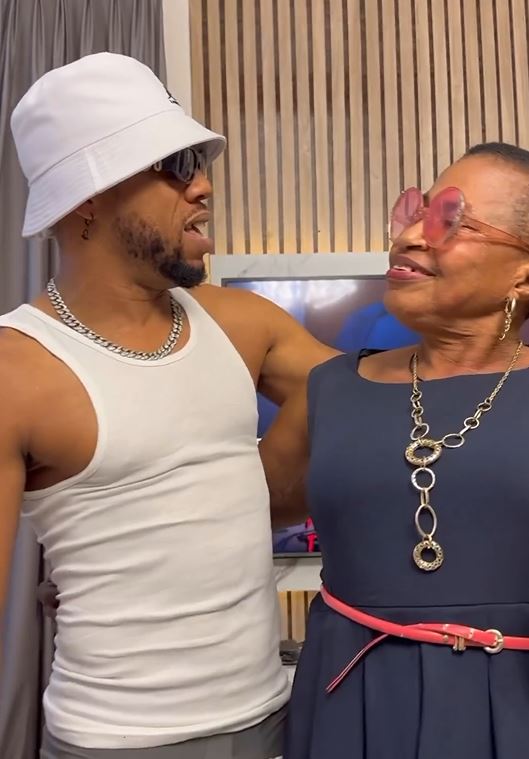 In the clip, Okocha warmly welcomes his mom to his home, bounding down the stairs with a bag in his hand while chanting, "My phenomenal mama."
His mother responds with excitement, expressing her joy over the designer bag, and both engage in a lively exchange, showering each other with praise and calling themselves "phenomenal."
Sharing the video on his Instagram page, Okocha captioned it, "Dear Momma, @ngoziokocha_, my love for you is phenomenal."
Watch video below,
A while ago, Charles Okocha's hilarious reaction to seeing his daughter drinking garri left netizens in stitches.
The doting father, who never passes up an opportunity to flaunt his daughter, recently shared a video of her drinking garri, a popular West African meal made from cassava flakes.
Lamenting bitterly, he noted that his daughter's choice of food reflects poorly on him as a brand, as he believes she should be eating expensive food instead.
He queried how international acts like Jay-Z would perceive him if the video of his daughter drinking garri goes viral.
Throughout the video, Okocha's daughter just sat on the couch, enjoying her bowl of garri and peanuts, ignoring her father's comedic antics. Watch here.