Lights, camera, action! The AMVCA has been at the pinnacle of award shows since its inception in 2013, celebrating the best in film with unforgettable moments that go down in history.
So, to get us into the AMVCA spirit, we decided to take a walk down memory lane and relive some of the moments that went down at previous AMVCA ceremonies. Here are some of the most unforgettable moments in AMVCA history.
2015
Remix of Lil Kesh's "Shoki"
Refined shoki. #AMVCA2015 pic.twitter.com/9Rxb6sD44o

— FK Oduwole (@Fola94) March 7, 2015
2016
Industry veteran Bukky Ajayi was in tears as she gives her appreciation speech.
"You all standing for me?" – Bukky Ajayi
This is one of the most touching moments in AMVCA history.#amvca2016 pic.twitter.com/LdFXXQLscN

— ID Africa (@ID_Africa) March 5, 2016
Honestly 😥😍😘 "@Blow_me_off: Woman of the Night #AMVCA2016 pic.twitter.com/oyVye3wAh9"

— Alaga Of Abuja 🐺 (@KIRAAH_) March 6, 2016
This was so sweet #AMVCA2016 pic.twitter.com/prI1vMPuX3

— Premium Mostdays (@_AyoT_A) March 5, 2016
2017
This moment between Falz and Chigurl
We can't get over this session 😂😂😂 Tag both of them 👇#amvca2017 #TryKonga pic.twitter.com/dMxCyeicul

— Konga Nigeria (@ShopKonga) March 6, 2017
Samuel Ajibola gets into the character of Spiff from "The Johnsons" during his acceptance speech 
#amvca2017 My favourite growing comedian won. This guy makes me laff after the day's stress. 😅😅😅Spiff I see you #africamagic #thejohnsons pic.twitter.com/0DTDZRwtWt

— Nabena Oghenevwiere (@Y_rayIrikefe) March 4, 2017
Timi Dakolo and Waje peppering us with their voice
This has to go down as my moment of the #amvca2017. @timidakolo and @OfficialWaje just got me rolling on the floor with laughter. pic.twitter.com/T44Z8iFXaF

— EDAFE MATTHEW ESEOGHENE (@ELEGBETE1) March 4, 2017
Olu Jacobs and Joke Silva on the red carpet in coordinating outfits, styled by Yolanda Okereke.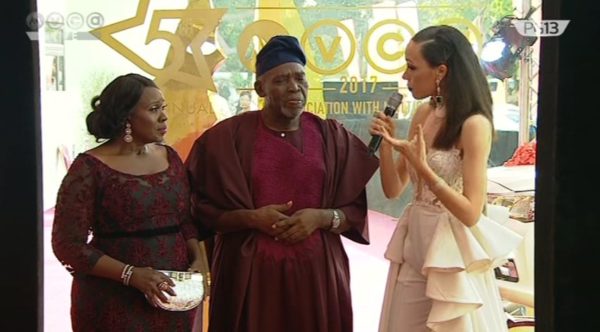 2018
Charles Inojie gave us a live performance of "Na Dem Dey Rush Us"
NA DEM DEY RUSH US #AMVCA2018 pic.twitter.com/3NwroEx9gu

— BellaNaija (@bellanaija) September 1, 2018
Bisola won the #AMVCA2018 Trailblazer Award
Bisola accepting her #AMVCA2018 award. pic.twitter.com/PoY6CCIv1T

— BellaNaija (@bellanaija) September 1, 2018
Cobhams' remix of "One Hit"
Cobhams Asuquo stealing the show with a remix of One Hit at the #AMVCA2018 pic.twitter.com/lfXYrhOp5z

— BellaNaija (@bellanaija) September 1, 2018
IK, the host that does the most 
Ik wants to scatter marriage ooooo. He's such a fantastic host, love him!!! #AMVCA2018 pic.twitter.com/6OzDKzeAqk

— Ìfẹ́ (@diaryofa9jagirl) September 1, 2018
Odunlade dropping bars! 
What Olamide? #OdunladeAdekola out here dropping bars as per Rap god! What rap name are we giving him guys? 😂😂
▪#Odunlade #AMVCA2018 #AMVCA #Nollywood #blueprintafric #nigeria #blueprintafricNigeria pic.twitter.com/QG3haVnalt

— BlueprintAfric (@blueprintafric) September 1, 2018
BBNaija stars 
It's all love, positive vibes only issa #BBN exHMs love,
My awwwwwn my #BAMTEDDY @bammybestowed @BadmanTeddyA 😍 #Bassey #Soma #Bisola #kemen #marvis #koko #gifty #urial #rico #ifu about last night #AMVCA2018 nominees party pic.twitter.com/WYNpuQ0V4P

— 🍭MERCY KAMWI🇳🇦🍭 (@MercyRK1) August 11, 2018
2020
There was a special father-son moment between Tosin Igho and his dad Peter Igho as they both won awards in different categories.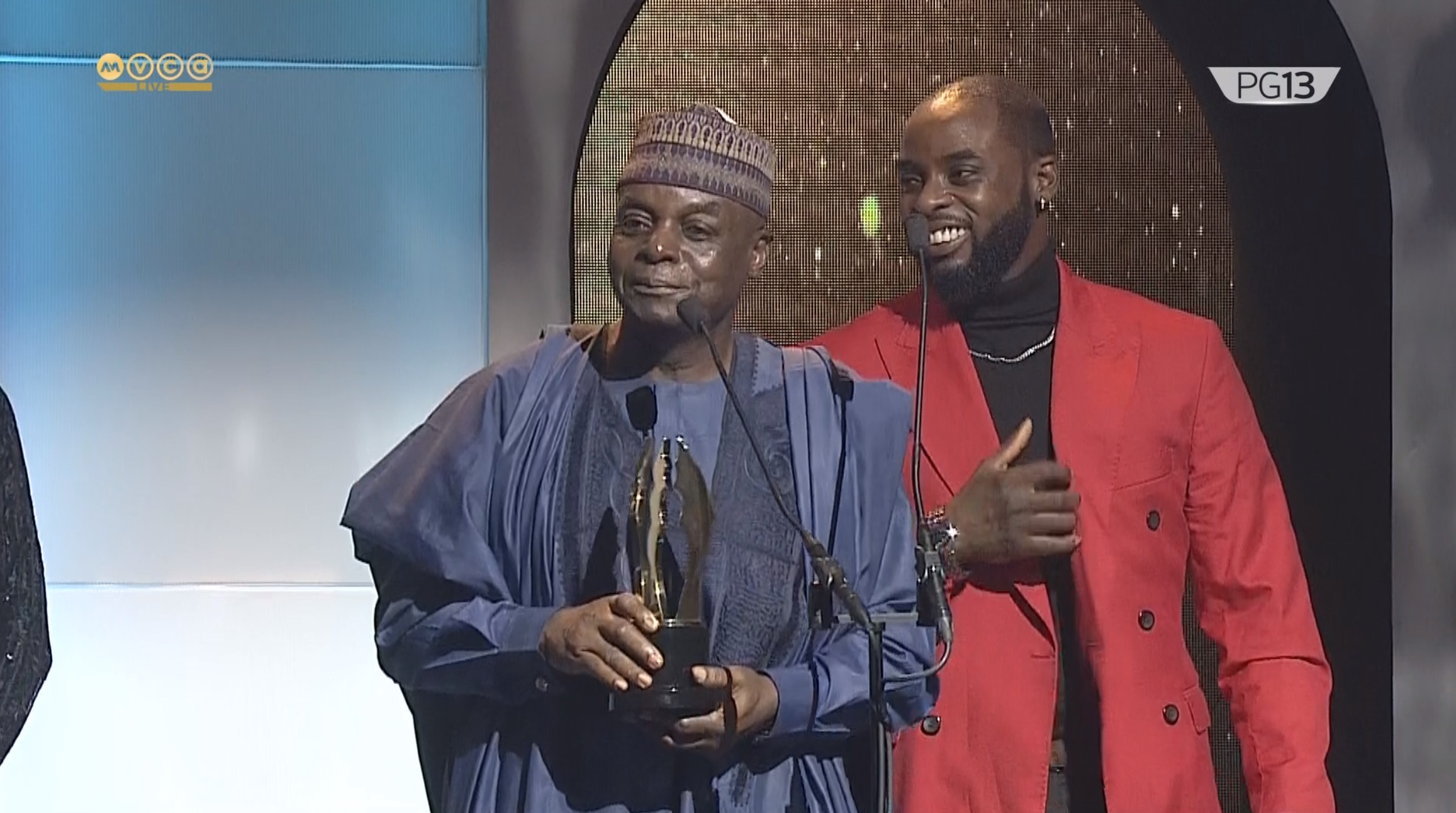 This moment between IK & Cobhams 
#AMVCA7 Moment: @ik_osakioduwa's got pipes! What a collabo 😂 @cobhamsasuquo pic.twitter.com/05VTxJb9jK

— Africamagictv (@africamagictv) March 14, 2020
That cute red carpet moment when Toke Makinwa and Venita Akpofure sang us a little Toni Braxton.
#AMVCA7 Red Carpet Moment: @tokstarr and @VenitaAkpofure sangin' a little @tonibraxton. Take our coinz, girls!😂❤️ #AMVCA7 pic.twitter.com/JCeK8XyQ6o

— Africamagictv (@africamagictv) March 14, 2020
That proud big sis moment when Dakore Egbuson-Akande presented the award for 'Best Actor In A Drama (Movie/TV Series)' to her brother, Timini Egbuson, for his work in "Elevator Baby"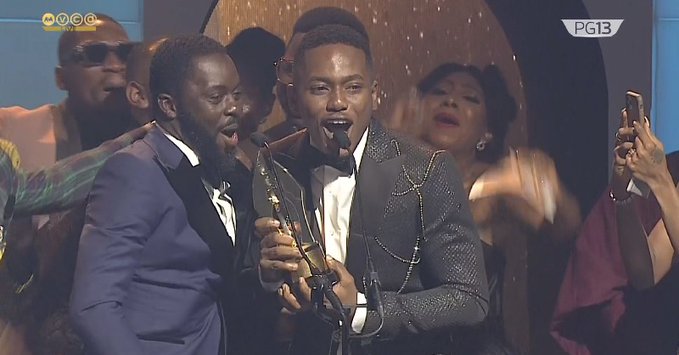 2022
This Oscars 2022-esque Moment With Host IK Osakioduwa & Deyemi Okanlawon
And then this happened 😂😂😭#AMVCA8 #AMVCA pic.twitter.com/ozRZP47eGn

— BellaNaija (@bellanaija) May 14, 2022
This Beautiful Pan-Africa Performance by Nigerian Idol 7 Top 12
A Tribute to the Angels by Kingdom & Akunna
This Stage Linkup Between Lagbaja and Rema
This Moment Between Odunlade Adekola and an Interviewer 
i'm dead. 😂 pic.twitter.com/BjABlmGUl4

— Tomiwa Talabi (@itsTomiwa) May 15, 2022