[ad_1]

A married Nigerian woman has taken to social media to cry out over her husband's continuous infidelity with another married woman.
The woman, identified as Afolakemi, complained in a Facebook post on Thursday, July 6, that her husband no longer loves her and cheats on her with a particular married woman.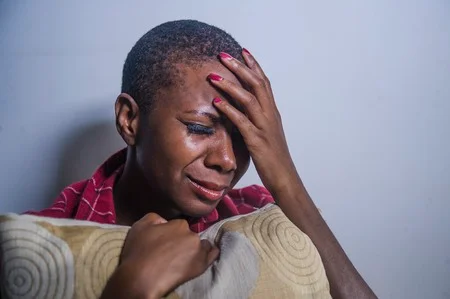 She said whenever she attempts to address the issue, her husband responds by verbally abusing her, which has made the situation even more challenging for her.
Feeling drained and overwhelmed by the circumstances, she sought advice from social media users on how to handle the situation.
"Good morning, everyone. Please advise a sister who is in pain. How can I make my husband feel less important and realize that he no longer acknowledges my existence? He doesn't love me anymore and constantly cheats on me with a particular woman who is also married. Whenever I express my concerns or talk to my husband about them, he ends up abusing me. I am exhausted, and I desperately need help," she wrote.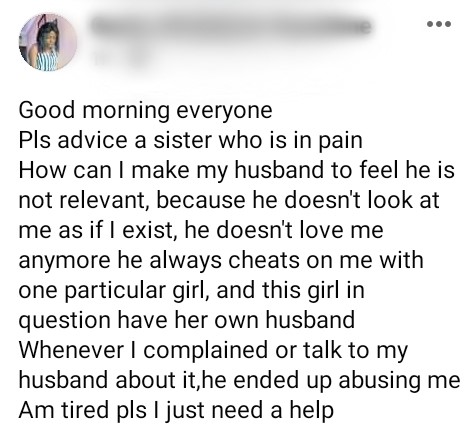 In related news, a Benue-based man identified as Zaid Khalase has taken to social media to lament his girlfriend's relationship with her supposed family friend.
According to him, the family friend was her ex-lover and his girlfriend considers him to be her closest friend and has refused to cut communication with him.
Sharing his predicament in a Facebook group, he asked for guidance as he wondered if he was being insecure or cautious about his girlfriend and the awkward relationship she still kept with her former lover.
He wrote;
"I'm in a relationship where my lady is still in touch with a guy who once had coitus with her and even considers him her closest male friend and refuses to cut communication because he is a "family friend". And till date, still communicates friendly with him I'm finding it difficult to accept this reality. What do y'all think? Am I being insecure or cautious".
[ad_2]

Source link