A video of a groom brutally beating his bride at their wedding has prompted outrage on social media.
The man is alleged to have become enraged when his bride defeated him in a game during their wedding reception.
The new couple were on stage during their wedding reception, which was held in Uzbekistan, when the toastmaster made them take part in a competition.
The bride won the game, and when the groom realized he had lost, he aggressively whacked her in the back of the head with his hand.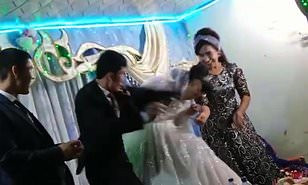 Mystified, the bride put her hand to her head, before she lifted her white wedding dress from the floor and was led off the stage by two other women.
As if nothing had happened, the groom stood on the stage, peering out across the silent throng that had been cheering the pair on seconds before.
Watch video below,
In Uzbekistan, groom hit the bride right at the wedding in front if guests, relatives, families from both sides. Noone stopped him, noone to defend her.
Footage shows the couple participated in game, after which he hit her.
We need an @WomanTreaty urgently pic.twitter.com/rgjtc4qM2W

— Leila Nazgul Seiitbek💙💛🇰🇬🌻 (@l_seiitbek) June 12, 2022
In other news, popular Nigerian Singer, Harrison Okiri, popularly known as Harrysong, has taken to his social media page to lament after he lost out on 'three big endorsement deals'.
According to the singer, he lost the deals because of the activities of Internet fraudsters (known locally as Yahoo Boys) who have been trying to hack his account.
RECOMMENDED ARTICLES