[ad_1]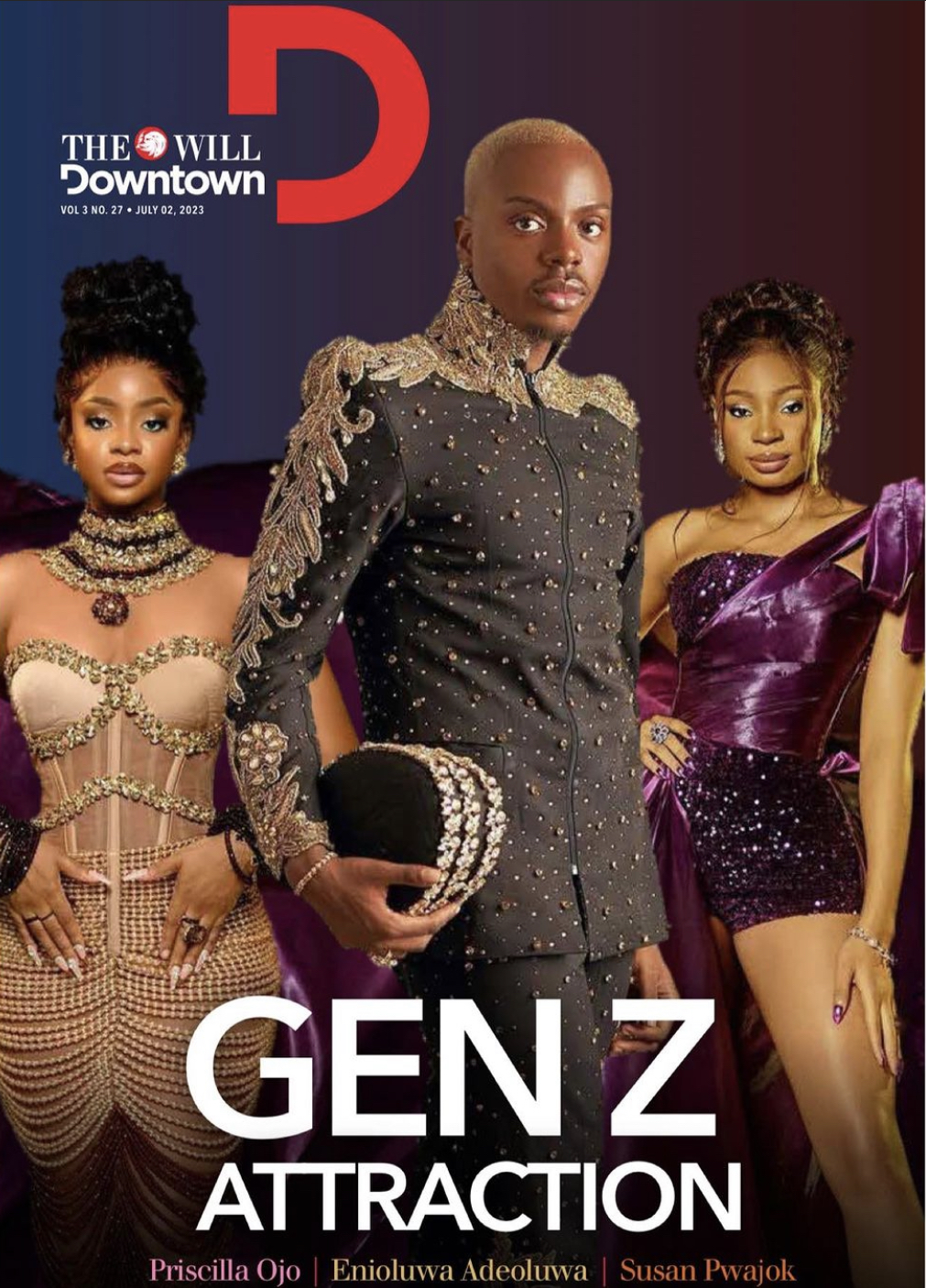 The latest cover issue of The Will Downtown Magazine titled "Gen Z Attraction" stars three Nigerian creatives; influencer, art director, and content creator Enioluwa Adeoluwa, actress, model, and social media influencer Priscilla Ojo, model, actress, influencer, and content creator Susan Pwajok.
Dorcas Akintoye spoke with highly rated influencers on different topics like their family backgrounds, inspirations, biggest challenges, what it means to be Gen-Z and lots more.
See excerpts below:
Enioluwa Adeoluwa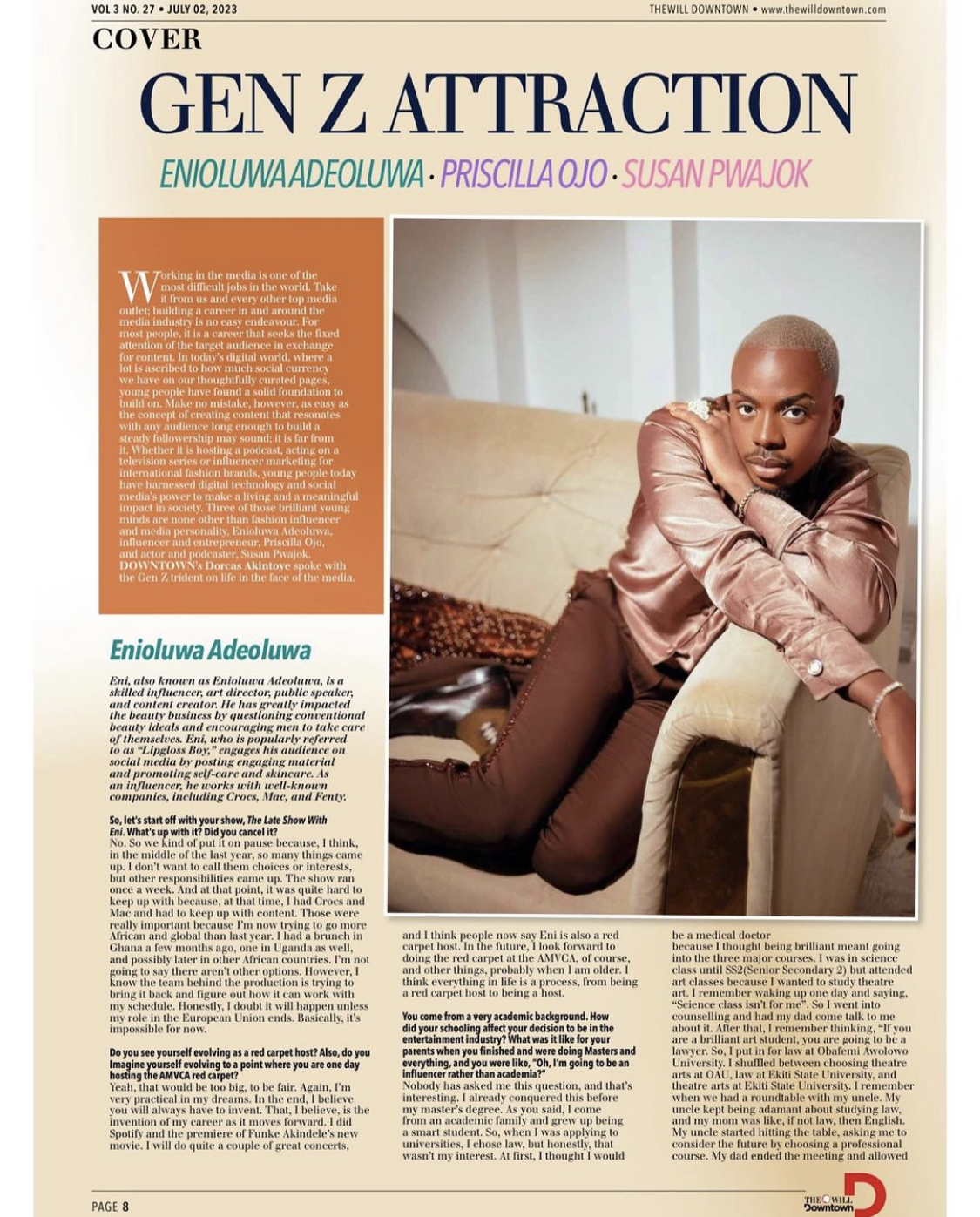 Who is a G-Z in the real sense of the demographic?
Without speaking from a marketing standpoint, I believe Gen-Zs are a generation of more daring and self-assured people. This is because they see possibilities where others do not. The perfect word to describe us is very daring, and one thing that interests me is that we always believe that our possibilities are endless. We also think differently and do not accept things for the way they are, thus accommodating other people. However, there are some things I disagree with, particularly being lenient. I think we should be able to afford people the opportunity to make mistakes and learn from them. I am very grateful for being part of a daring generation.
What is the biggest misconception about Gen Z?
People frequently accuse members of Generation Z of being rude, but while some young people behave rudely, they are by no means the majority. Adults may test us because they believe we lack manners as a result of this misperception, which is unfortunate. For instance, I once ran into an adult while shopping. Even though I was already moving in their direction, the person sternly requested me to come. It almost seemed as if they were making a point about not giving a damn about who I am. Moving on to laziness, it's not just a Gen-Z trait, but I like being around motivated people who go above and beyond. But when Gen-Zers want achievement without putting in the required hard effort, laziness becomes a problem. For example, we are holding an interview, and you have called me to make this work. The ordinary person could think you just figured it out, but there was a lot of work done in the background. While some members of Generation Z may dislike work but appreciate the benefits, I think that as we get older, we begin to understand the principles that our parents ingrained in us.
What are some of the challenges that you faced as a person?
The most general one is how society tries to excuse everything you do because you act a certain way. Not everyone will like or accept you for how you are. Every day, I wake up knowing that I try my best to impact society positively. Even though there is a part of me that people don't particularly like, I am not going to give up the part that makes me happy. I think that's the only challenge—the wrong misconception among people, especially men. People say negative stuff on Twitter and other social media platforms, but like Beyonce said, "Your paper is your best revenge." I know deep down that I need to get things done.
Priscilla Ojo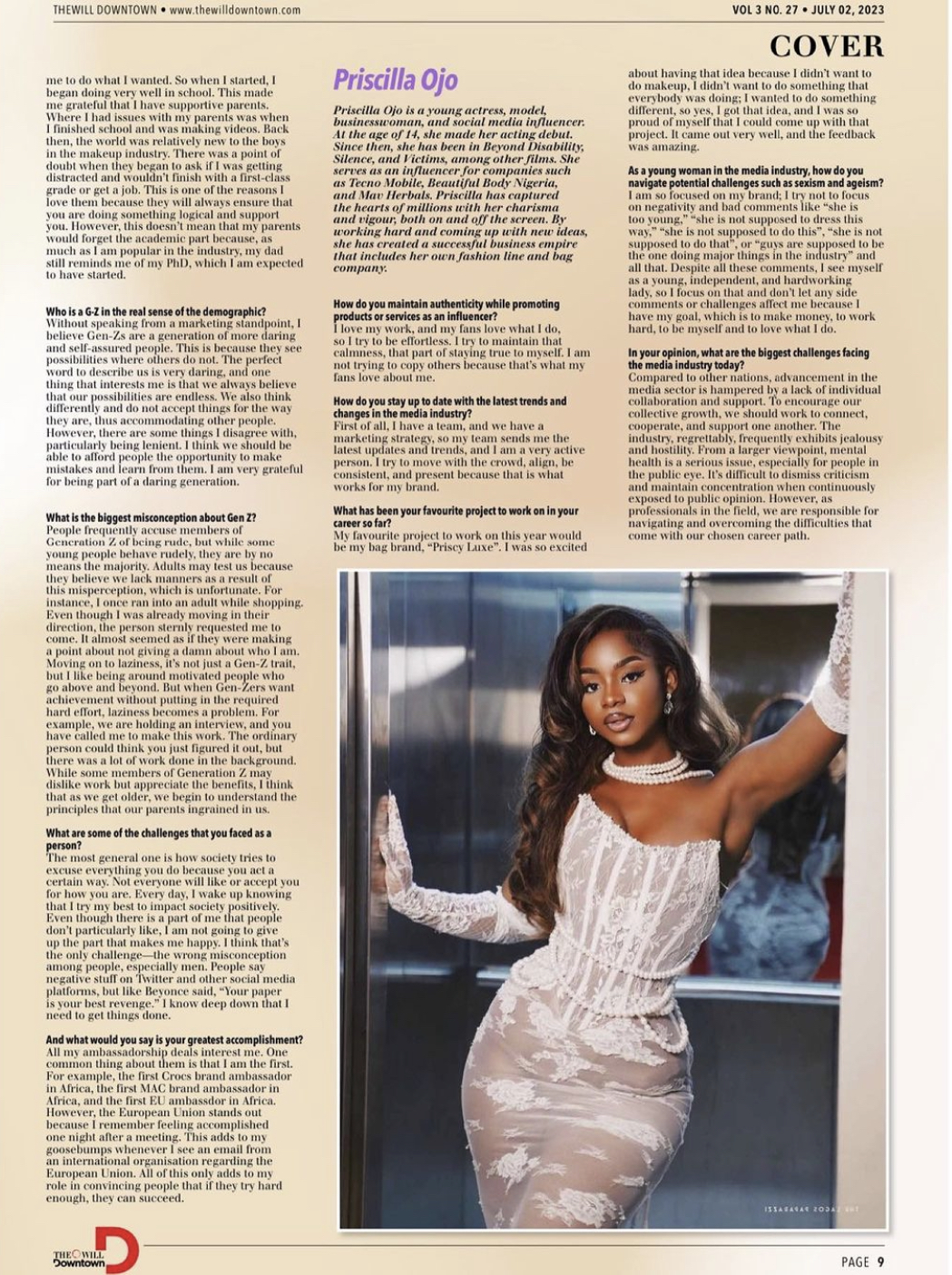 How do you maintain authenticity while promoting products or services as an influencer?
I love my work, and my fans love what I do,
so I try to be effortless. I try to maintain that calmness, that part of staying true to myself. I am not trying to copy others because that's what my fans love about me.
How do you stay up to date with the latest trends and changes in the media industry?
First of all, I have a team, and we have a marketing strategy, so my team sends me the latest updates and trends, and I am a very active person. I try to move with the crowd, align, be consistent, and present because that is what works for my brand.
As a young woman in the media industry, how do you navigate potential challenges such as sexism and ageism?
I am so focused on my brand; I try not to focus on negativity and bad comments like "she is too young," "she is not supposed to dress this way," "she is not supposed to do this", "she is not supposed to do that", or "guys are supposed to be the one doing major things in the industry" and all that. Despite all these comments, I see myself as a young, independent, and hardworking lady, so I focus on that and don't let any side comments or challenges affect me because I have my goal, which is to make money, to work hard, to be myself and to love what I do.
Susan Pwajok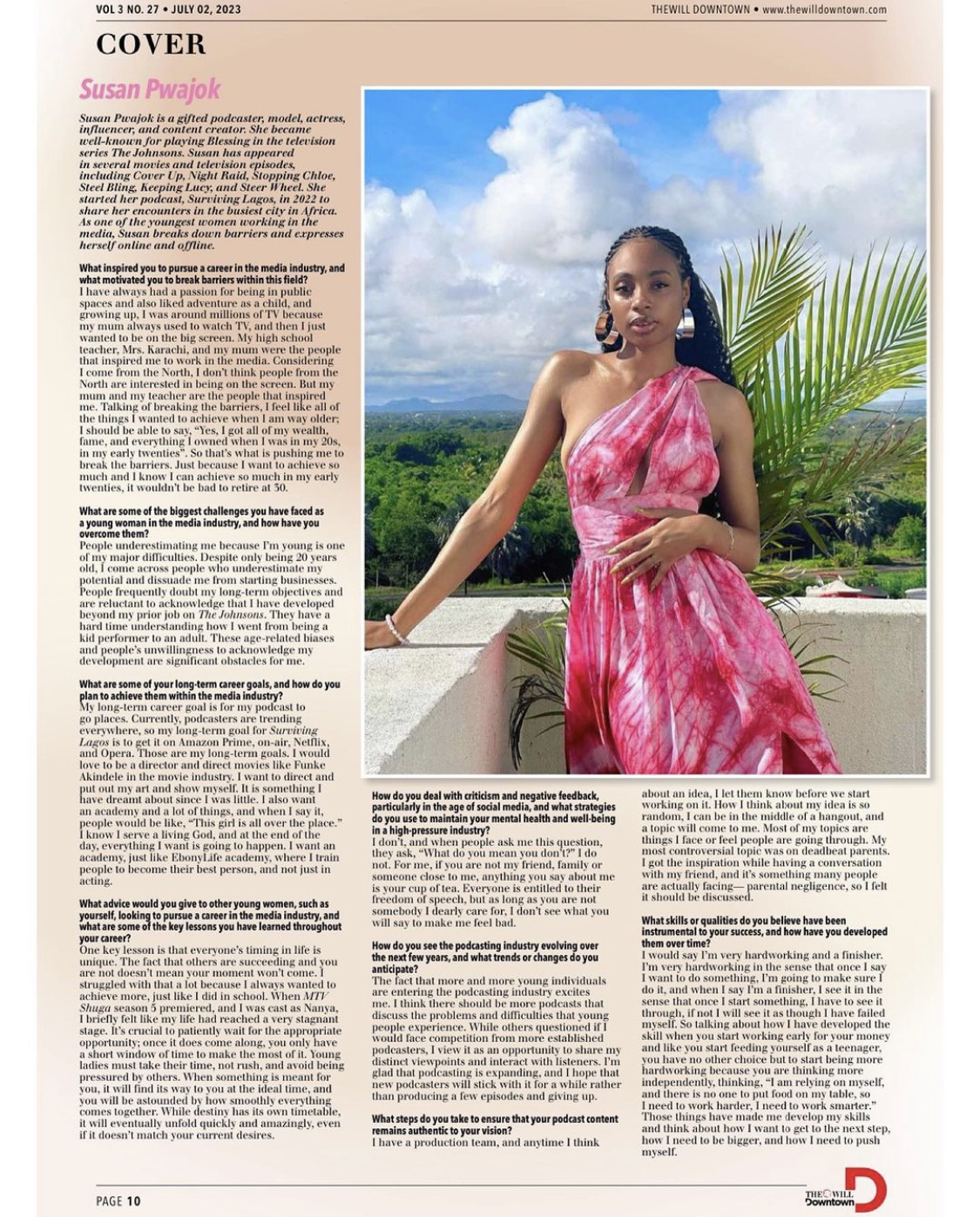 What inspired you to pursue a career in the media industry, and what motivated you to break barriers within this field?
I have always had a passion for being in public spaces and also liked adventure as a child, and growing up, I was around millions of TV because my mum always used to watch TV, and then I just wanted to be on the big screen. My high school teacher, Mrs. Karachi, and my mum were the people that inspired me to work in the media. Considering I come from the North, I don't think people from the North are interested in being on the screen. But my mum and my teacher are the people that inspired me. Talking of breaking the barriers, I feel like all of the things I wanted to achieve when I am way older; I should be able to say, "Yes, I got all of my wealth, fame, and everything I owned when I was in my 20s, in my early twenties". So that's what is pushing me to break the barriers. Just because I want to achieve so much and I know I can achieve so much in my early twenties, it wouldn't be bad to retire at 30.
What are some of the biggest challenges you have faced as a young woman in the media industry, and how have you overcome them?
People underestimating me because I'm young is one of my major difficulties. Despite only being 20 years old, I come across people who underestimate my potential and dissuade me from starting businesses. People frequently doubt my long-term objectives and are reluctant to acknowledge that I have developed beyond my prior job on The Johnsons. They have a hard time understanding how I went from being a kid performer to an adult. These age-related biases and people's unwillingness to acknowledge my development are significant obstacles for me.
Click here to read the full interview.


[ad_2]

Source link